Through ultrasound, cavitation creates a controlled generation of micro-vacuum bubbles that break down fat cells without affecting surrounding structures, respecting the integrity of the blood and the lymphatic system.
Ultrasound Cavitation has achieved great popularity in a very short time, equally with men and women, as it opened the possibility to realize the dream of a beautiful sculpted body without surgical intervention and little down time. Ultrasound Cavitation is a non-surgical reduction of localized fat, using a low-frequency ultrasound that is applied on the surface of the skin without any incisions or anesthesia.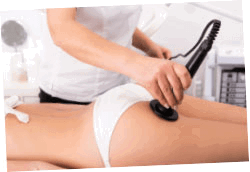 Cavitation TreatmentsCavitation is designed especially to eliminate cellulite and localized fat. Minimal side effects that may be felt are: local erythema (reddening of skin); temporary micro-spotting; or sensation of ringing in the ears duringthe session.
Clients who have heart disease, epilepsy, pacemakers, hearing disorders, cancer, prosthetic metal zones, or those who are pregnant or menstruating, should consult with their doctors and may need to bring a signed doctor's note. For clients with liver or kidney diseases (stones, transplants, and so on), it is best to avoid cavitation.
Who applies the therapy?
The Ultrasonic Cavitation treatment is not at zero risks. It should only be administered by highly trained technicians who have completed a technical and hands-on course and earned their certificate. They will be able to adapt the power and depth of this modality to the anatomical location of the treated area and to the amount and structure to each person's adiposity.
Unfortunately, more and more beauty salons and spas provide this treatment without proper training and knowledge of the process of working with Ultrasound Cavitation. The consequences will be felt by the client over a certain period of time, depending on his or her health.
Contraindication
Prolonged treatment or an ultrasound frequency between 35 and 42 kilohertz (even as low as 30 kilohertz), could go deeper and can result in the damage of the abdominal muscle wall or irritate internal organs. Clients can contract hepatitis and/or cirrhosis of the liver.